Time for some Friday Faves! Seeing as I am in Ottawa this weekend, what better than to share some of my favourite things to do / places to see in Canada's Capital.
Bridgehead
via
Wikipedia
Bridgehead
is a great coffee shop chain with 12 locations in Ottawa. It offers fair-trade, shade grown, organic coffee and tea options, along with treats (delicious), grain salads, and sandwiches.
Kettleman's Bagels
via
MetroMinute (Ottawa)
via
OttawaXpress
In my opinion Kettleman's has the BEST Montreal style bagels this side of Montreal! My preferred location is the one in the Glebe - open 24 hours - located at 912 Bank St. They also have locations on Carling Rd. and in Orleans.
Beavertails
via
Eva's Food World
Beavertails
are an iconic Ottawa treat! You can now get them year round in the Byward market, but a true Beavertail is had on the canal during
Winterlude
(starts Feb 4). If you've never been to Winterlude, or skating on the Rideau Canal, you really really should. And it gives you a great excuse to have a Beavertail! (are you drooling yet?). My favourite variety is Killaloe Sunrise - cinnamon sugar and lemon - delicious!
La Brioche Bakery & Pastry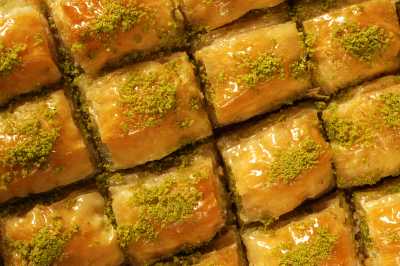 via
By far, the best baklava (and any other middle eastern treat) I have ever eaten has been from La Brioche. I discovered it with my roomies when we lived in the Glebe and haven't looked back since! It is still one of the places I visit each time I am in Ottawa. I don't know what it is (my theory is because they use rose water instead of honey), but their treats are to die for. Located at 866 Bank St. (a short jaunt from Kettleman's!)
Do you notice a theme here? Apparently I miss all food places in Ottawa...
Aside from the food places there are some cute neighbourhood shops that I like to frequent including:
Magpie Jewellery
Magpie
started out as THE place to buy great silver jewellery, and since has added to its repetoire a number of inspired pieces from jewellery designers - everything from basic earrings to necklaces to wedding rings. Magpie is always fun to look around in (and guess where it is -- the Glebe! 799 Bank St.).
Harnn&Thann
I first came across the
Thann
store shortly after I returned to a trip to SE Asia. The products have subtle, almost natural scents (but most are scented) and the packaging is gorgeous. The interior of the store is calming. The first store I came across was in Westboro at 312 Richmond Rd. They have since opened one (in the Glebe! ha) at 829 Bank St.